Hi everyone! We are linking up with Shay & Erika for this month's Let's Look post. This month's topic is Winter Wardrobe!!! I am going to share my wardrobe, as well as Ella's. I also snuck in a few items from my 'wish list.' I am a little more prepared than I was last month... Where I shared
my night stand
and it was a complete disaster, haha.
*this post contains affiliate links, see disclosure for more info*
These are all my winter clothing favorites. This is not everything in my winter closet, but definitely the items that get worn the most. I got
the clothing rack
to hang up wet clothes that can't go in the dryer. It made for a great display for today's post too! (That one white clothes hanger is driving me BONKERS!)
Just the coats/jackets. My main outerwear that I use in the winter time are either my...
Rain jacket
Faux leather jacket
Jean jacket
Army vest
Blazer (for fancier events)
Not pictured-- my fuzzy zip ups, seen many times on this blog :)
My sweaters, long sleeves and jeans.
As you can see, nothing super colorful. I have a couple bright shirts or sweaters and that's it. I love dark green, navy blue, gray, black and white for the most part.
My winter wardrobe looks very similar to a Fall wardrobe. But that's because we don't get much cooler here than high 50s or low 60s during the day. At times, I miss bundling up in cute jackets, boots, scarves, mittens etc. But when I start to really reminisce about a Maine winter... I don't miss it anymore! Haha!!! I feel bad for my Maine family still stuck in the arctic tundra.
The past few years that I have lived in Seal Beach, the winters have been fairly mild but with some rain. However, this year it has been FREEZING. I am so glad I decided to restock my winter wardrobe but it was in perfect timing. I decided I really needed some new sweaters and winter attire, so I went to my favorite store... Kohls! I bought a lot of things when they were running their Black Friday specials, so I was able to get most of the sweaters for only 10$ each. I linked what I could, but wasn't able to find everything on their website. Clicking on the photos will take you directly to their website.
I ordered a few sweaters. I wanted an array of colors and styles, but clearly I am a big fan of burgundy. They are all flattering in their own way and can be dressed up or down.
I got two button-up shirts, one plaid and one denim. I love both, especially the denim.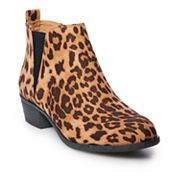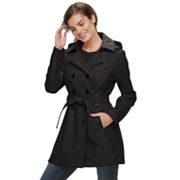 I got these cute cheetah booties which I wore all season long, and my jacket on the right which has been especially needed this year as it has been COLD for Southern California standards.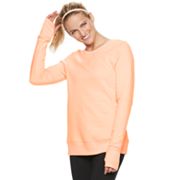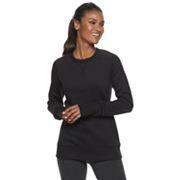 I ordered 2 crew neck sweatshirts. They are meant for working out but they are perfect for everyday too. I love the orange cream color and wear that one almost every week. The thumb-holes are my fave.
As you can see, I shop at Kohls a lot. In reality... my daily attire looks mostly like scrubs all day, and then pajamas the second I get home from work. I also love wearing workout clothes all day too, even if I'm not going to go work out. Anyone else???
I have had my eye on some new additions for my closet, which I found on Amazon. I will probably hold off on any shopping for now. I try to only buy one new item if I donate at least 3 pieces. Right now I feel content... but I have this stuffed saved for later (when the day to add to my closet comes!)
This
3 pack of leggings
is such a great deal. I am in need of some new daily leggings and this 3 pack for only 25$ is has amazing reviews.
Love this
work out tank top too
.
I am obsessed with
this fleece zip up
. It's super cute and is perfect for the winter weather in OC.
Now onto Ella's wardrobe. I only included her outerwear and tops because all of her pants are either sweats, leggings or jeggings. Nothing too exciting. Most of Ella's clothes are gifts from family or hand-me-downs from our friend Samantha.
Ella loves thick sweaters and long dresses in the winter. She has a lot of pink and more colorful clothes that are currently in the wash... Lots of fleece one-piece pajamas for night time too! When I do buy her clothes, I almost always go to Carters, Kohls, Marshalls, Burlington Coat Factory etc. Old Navy has some REALLY cute toddler clothes that I can't wait to check out when she outgrows her current stuff. We use
velvet clothes hangers
for her closet and I love them so much, I want to get them for ours... her clothes never slip off the hangers!
As far as things I have had my eye on for Ella. I found a bunch of cute stuff on Amazon. These are just a few of the cute things I found...
I really want to get Ella some more shoes like
these slip ons
. Her doctor said soft shoes are the best for walking and not tripping!
In love with
this dress
for her.
This outfit
is just too darn cute.
Loving
this dress
too!
That's all we have to share for this month's edition of Let's Look! I literally can't wait to take a peek at all of your winter clothes!!! Thank you so much for reading...
and if you aren't already, please follow us here on Blogger and on Instagram.
-Ashley & Ella xoxo